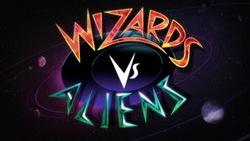 Wizards vs Aliens is a science fantasy television series aimed at children. It is produced by BBC Wales and FremantleMedia Enterprises for CBBC and created by Russell T Davies and Phil Ford. The show has been confirmed to return for a third series. The third series will comprise just ten episodes, making it the shortest one so far.
Plot
The series focuses on 16-year-old wizard Tom Clarke and his scientist best friend Benjamin "Benny" Sherwood as they battle the forces of the alien Nekross, who have invaded Earth with the intent of consuming anything and anyone connected to magic.
Characters
Scott Haran as Tom Clarke
Percelle Ascott as Benny Sherwood
Gwendoline Christie as Lexi
Jefferson Hall as Varg
Dan Starkey as Randal Moon
Brian Blessed as the voice of The Nekros King
Annette Badland as Ursula Crowe
Michael Higgs as Michael Clarke
Tom Bell as Technician Jathro 15
Manpreet Bamra as Katie Lord
Connor Scarlett as Quinn Christopher
Ad blocker interference detected!
Wikia is a free-to-use site that makes money from advertising. We have a modified experience for viewers using ad blockers

Wikia is not accessible if you've made further modifications. Remove the custom ad blocker rule(s) and the page will load as expected.