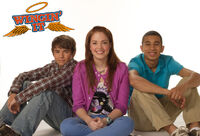 Wingin' It is a Canadian teen sitcom. It was originally titled Angel on Campus. Family announced that the series was renewed for a third season on June 13, 2011. The show was broadcast on CBBC.
Plot
Wingin' It is Family's series about a teenage odd couple. One half of the couple is Porter Jackson, a carefree sixteen year old Angel-In-Training (AIT) who has been sent to Earth to get his angel wings.
The other half is Carl Montclaire, a fifteen year old typical high school kid who has been going through a run of bad luck. Little things seem to always be going wrong in Carl's life. For Porter to get his angel wings, he's been given the assignment of making Carl the most popular kid at Bennett High.
Characters
Ad blocker interference detected!
Wikia is a free-to-use site that makes money from advertising. We have a modified experience for viewers using ad blockers

Wikia is not accessible if you've made further modifications. Remove the custom ad blocker rule(s) and the page will load as expected.