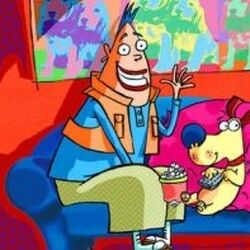 Watch My Chops is an animated series about a intelligient talking dog, Corneil, and his "dog-sitter", Bernie Barges. The series was produced, written, and animated in France, and the English dubbing took place in London.
In the UK, the show is called Watch My Chops, named after Corneil's catchphrase; in France, it is known as Corneil et Bernie. A DVD of the first season has been released. The series was distributed by Millimages and aired in the UK on CBBC from 2004-2007 and in the United States on Nicktoons.
Ad blocker interference detected!
Wikia is a free-to-use site that makes money from advertising. We have a modified experience for viewers using ad blockers

Wikia is not accessible if you've made further modifications. Remove the custom ad blocker rule(s) and the page will load as expected.