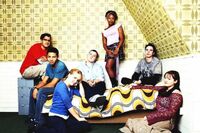 UGetme was a CBBC television series, which appears to be largely forgotten by the internet.
Written by Adrian Hewitt, Stuart Kenworthy and Steve Turner, directed by Otto Bathurst and Maddy Darrall and produced by Billy Macqueen and Maddy Darral at Darrall Macqueen. Screened on CBBC and BBC One from 2004-2005.
Summary
DJ Joe, Ugetmes owner, had moved to South London down from North England. He had to leave his friends behind and start Ugetme again. He found his two best friends (Carly and Kit) and they came on to be the new
More teen traumas with an interactive streetwise twist in a new series of U Get Me. It's tough being a teen and Joe's feeling the pressure. He's moved from Leeds to London, has had to made new friends and is busy keeping his kickin' internet radio station, UGetMe, going. Follow the story of Joe and his mates through the trials and tribulations of teenage life.
External Links
UGetme on Internet Movie Database
UGetme on BBC Press release
Ad blocker interference detected!
Wikia is a free-to-use site that makes money from advertising. We have a modified experience for viewers using ad blockers

Wikia is not accessible if you've made further modifications. Remove the custom ad blocker rule(s) and the page will load as expected.