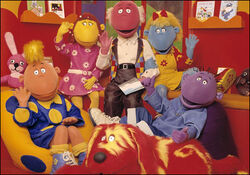 Tweenies is a British live action children's television programme, originally broadcast on the BBC's CBBC programming block.
The series first aired on 6 September 1999 and finished on 24 July 2002. When CBeebies was launched on 11 February 2002, it became the new children's programming block for Tweenies to be shown on. It ran until 1 April 2016.
Plot
The programme is set in a nursery attended by the four Tweenies themselves: Milo, Jake, Bella and Fizz. They are supplemented by two adults, Max and Judy, and two dogs, Doodles and Izzles.