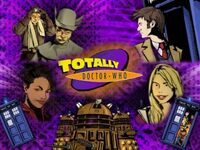 Totally Doctor Who is a children's television series produced by the BBC for CBBC that was originally broadcast between 13 April 2006 and 29 June 2007, accompanying the second and third revived series of Doctor Who. No episodes have been produced following the third series.
Links
Ad blocker interference detected!
Wikia is a free-to-use site that makes money from advertising. We have a modified experience for viewers using ad blockers

Wikia is not accessible if you've made further modifications. Remove the custom ad blocker rule(s) and the page will load as expected.