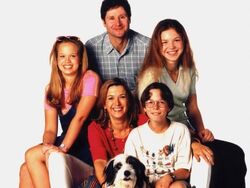 The Wild House was a serialised children's programme produced between 1997 and 1999 broadcast by the CBBC.
The idea was created by Jean Buchanan, and later series were written partially by Mark Haddon, author of The Curious Incident of the Dog in the Night-time. It follows the life of Natalie Wild (played by Ellie Beaven) and the other members of the Wild family.
Information
The Wild House, while a reference to the family surname, also gives an apt description of the impression of the family. Natalie, who seems the 'normal' member of the family, is the character around which the show centres. The show is notable for its frequent use of soliloquy by, at various times, all of the Wilds (even the dog, Jasper). They speak directly to the camera, commenting upon their lives while dream-like images are projected behind them.
By the second series, Serena has left for Boston on a science scholarship. Later in the series, Mr. and Mrs. Wild join her in the USA. The family are now looked after by aunts, uncles and a granny. Cousin Georgina, a feisty 16-year-old, also moves in. In the finale, the rest of the Wild clan prepared to move stateside.
After the last episode of the series, the principal writer of the series, Jean Buchanan, revealed a new children's television series, Welcome to Orty-Fou. While more of a light drama than a comedy, it is based around an eccentric family, with the same use of soliloquy.
Gallery
Links
Ad blocker interference detected!
Wikia is a free-to-use site that makes money from advertising. We have a modified experience for viewers using ad blockers

Wikia is not accessible if you've made further modifications. Remove the custom ad blocker rule(s) and the page will load as expected.