The topic of this page has a wiki of its own: smurfs wiki.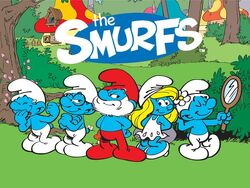 The Smurfs (also known as simply Smurfs, and syndicated as Smurfs' Adventures) is an American animated television series that aired on NBC from September 12, 1981 to December 2, 1989. Made by Hanna-Barbera.
It is based on the Belgian comic series by the same name, created by Belgian cartoonist Peyo (who also served as Story Supervisor of this adaptation) and aired for 256 episodes with a total of 421 stories.
The show was broadcast daily in the UK around breakfast time on the CBBC time slot in the 1990's.