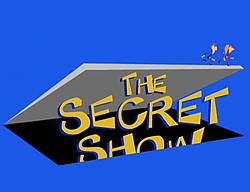 The Secret Show is a British animated show commissioned by BBC Children's in partnership with BBC Worldwide. First debuted in 2006, it currently airs on CBBC, The Den, ABC, BBC One, BBC Kids, MBC3 and TSR 2. It debuted on the American Nicktoons on January 20, 2007 at 8:30 pm ET.
Ad blocker interference detected!
Wikia is a free-to-use site that makes money from advertising. We have a modified experience for viewers using ad blockers

Wikia is not accessible if you've made further modifications. Remove the custom ad blocker rule(s) and the page will load as expected.