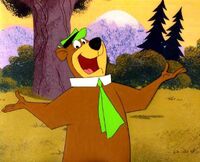 The New Yogi Bear Show (also known as Hanna-Barbera's Yogi Bear Show) is a 30-minute weekday animated series which aired on syndication in 1988 and featured one of Hanna-Barbera's most well-known classic characters, Yogi Bear.
It contained 45 new episodes combined with reruns of the original 1960s series, The Yogi Bear Show. This was shown on CBBC.
Voices
Additional voices
Episodes
| | |
| --- | --- |
| Kahuna Yogi | Yogi and Boo Boo get on a game show and end up winning a trip to Hawaii. |
| Grin & Bear It | Yogi tries to make Ranger Smith feel guilty by pretending that the ranger ran him over. |
| Board Silly | TBA |
| Shine on Silver Screen | TBA |
| Buffalo'd Bear | TBA |
| The Yolks on Yogi | TBA |
| Yogi De Beargerac | TBA |
| Bearly Sick | TBA |
| Bear Exchange | TBA |
| To Bear is Human | TBA |
| Slim & Bear It | TBA |
| Old Biter | TBA |
| Pokey the Bear | TBA |
| Shadrak Yogi | TBA |
| Bruise Cruise | TBA |
| Bear Obedience | TBA |
| Come Back, Little Boo Boo | TBA |
| La Bamba Bear | TBA |
| Clucking Crazy | TBA |
| Misguided Missile | TBA |
| Double Trouble | TBA |
| Attack of the Ninja Raccoon | Ninja Raccoon appears in Jellystone Park and ends up eating the cake that Ranger Smith's mother made for him and the eclairs that Yogi has swindled. Ranger Smith and Yogi Bear band together to try to trap Ninja Raccoon. |
| Biker Bear | Cindy Bear's niece Bibbi is riding on the scoter. |
| Bearly Buddies | A misunderstanding leads Yogi to believe that he's not Boo-Boo's best friend, which results in him kicking Boo-Boo out of their cave. |
| Predaterminator | TBA |
| Little Lord Boo Boo | TBA |
| Yogi the Cave Bear | Yogi discovers a tunnel in his cave that leads Boo Boo and him to prehistoric Jellystone Park. |
| Little Big Foot | TBA |
| Top Gun Yogi | TBA |
| The Hopeful Diamond | TBA |
| Real Bears Don't Eat Quiche | A major forest fire has damaged most of Grizzly Stone Wilderness Park causing most of its animals to be temporarily transferred to Jellystone National Park. Yogi ends up having to compete against a vicious bear named Growler for the attention of Cindy Bear. |
| Slippery Smith | Ranger Smith's evil twin brother Slippery Smith escapes in jail and to replace Jellystone like his brother. |
| In Search of the Ninja Raccoon | Ninja Raccoon returns and once again interferes with Yogi's picnic raids. Boo Boo ends up having Yogi train with Ninja Raccoon to master the Ninja Raccoon's moves. |
| Balloonatics | TBA |
| The Big Bear Ballet | Yogi learns ballet from a visiting Russian bear. |
| Blast Off Bears | TBA |
| Battle of the Bears | Cindy Bear's mother is coming to visit her daughter to her new fiancée named Boran Bearwik the III. and she meets Cindy Bear's own boyfriend Yogi Bear. |
| Bringing Up Yogi | Yogi and Cindy are getting married going to a honeymoon and this Spring to has a little baby bear named Little Yo, Boo Boo, Ranger Smith and Ranger Roubideux on for his birthday but Yogi is having a nightmare. |
| Unbearable | TBA |
| Banjo Bear | Yogi's uncle Banjo Bear is coming to visit his nephew. |
| Boxcar Pop | Ralph Bear is coming visit Jellystone his son Yogi to the Party with Boo Boo, Cindy, and Ranger Smith. |
| Yogi Meets The Mummy | TBA |
| Ninja Raccoon, The Final Shogun | Ninja Raccoon returns to Jellystone and challenges Yogi to a showdown. Boo Boo ends up overseeing Yogi's training so that he'd be in shape to fight Ninja Raccoon. |
| The Not So Great Escape | TBA |
| My Buddy Blubber | TBA |
Ad blocker interference detected!
Wikia is a free-to-use site that makes money from advertising. We have a modified experience for viewers using ad blockers

Wikia is not accessible if you've made further modifications. Remove the custom ad blocker rule(s) and the page will load as expected.