The topic of this page has a wiki of its own: mummy wikia.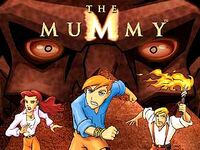 The Mummy: The Animated Series is an animated television series produced by Universal Animation Studios to capitalize on the success of The Mummy film series. It was shown on CBBC in the UK.
Storyline
Based loosely on hit movies The Mummy and The Mummy Returns, the O'Connells find themselves being chased around the world by the undead corrupt High Priest, Imhotep, and his lackey, Colin Weasler, while trying to get the Manacle of Osiris off Alex's wrist.
This takes their trip across the world, trying to locate the lost scrolls of Thebes, the only things that can remove the manacle. However, the scrolls had to be destroyed to prevent Imhotep from possessing the manacle. Now in the second season, Alex is trained as a Medjai to combat the mummy as well as facing new threats along the way.
External Links
Ad blocker interference detected!
Wikia is a free-to-use site that makes money from advertising. We have a modified experience for viewers using ad blockers

Wikia is not accessible if you've made further modifications. Remove the custom ad blocker rule(s) and the page will load as expected.