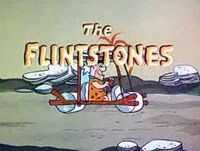 The Flintstones is an animated, prime-time American television sitcom that screened from September 30, 1960 to April 1, 1966 on ABC. Produced by Hanna-Barbera Productions, The Flintstones was about a working class Stone Age man's life with his family and his next-door neighbor and best friend. It has since been re-released on both DVD and VHS.
The show celebrated its 50th anniversary on September 30, 2010. The show was shown on the CBBC block.
Ad blocker interference detected!
Wikia is a free-to-use site that makes money from advertising. We have a modified experience for viewers using ad blockers

Wikia is not accessible if you've made further modifications. Remove the custom ad blocker rule(s) and the page will load as expected.