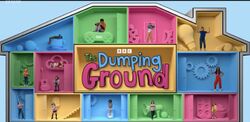 The Dumping Ground is a BAFTA-winning British children's television series, which premiered on CBBC and BBC HD on 4 January 2013.
The series is a spin-off from The Story of Tracy Beaker and Tracy Beaker Returns. The first series aired until March 2013, with a second series confirmed for January 2014, preceded by a Christmas special in December 2013.
Summary
The Dumping Ground descends into anarchy when Mike goes on holiday and Gina ends up in hospital after an accident with a grenade. The residents struggle to cope and start to turn on each other after taking the decision to try and fend for themselves.
Faith's brother Razz turns up and rich exotic girl Esme forces Carmen to alienate her own friends over Esme. This is the last series to feature 'Elm Tree House'.