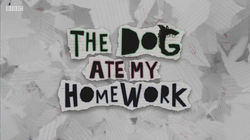 The Dog Ate My Homework is a British children's panel show on CBBC hosted by Iain Stirling and stars Chris Lawrence as Mr. Smash and Ian West, previously Stephanie Fulton, as The Dog.
Format
The show features two teams, both with two celebrities (usually a CBBC star and comedian) and a child. They compete in various games and tasks, and the winning team get a gold star.
Stirling can take, or give, gold stars as whenever he wants. He usually gives them when an answer makes him laugh. The team at the end of the show with the most gold stars wins.
Ad blocker interference detected!
Wikia is a free-to-use site that makes money from advertising. We have a modified experience for viewers using ad blockers

Wikia is not accessible if you've made further modifications. Remove the custom ad blocker rule(s) and the page will load as expected.