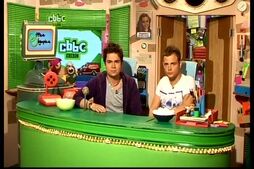 The CBBC Office is the hub of CBBC and is the studio for the current generation of CBBC. When CBBC was re-lauched in September 2007

Presenters
Ed Petrie and Oucho T. Cactus became the cheif presenters and only presented in the afternoon. There has since been many different presenters on weekends and throughout the week.
Weekday Presenters
Ed and Oucho
Iain and Hacker - Current
Holly and Dunceton - (Whilst Ed & Oucho were filming)
Ed and Oucho although are not presenters in the office, they still make appearences.
Weekend Presenters
Dick and Dom, Sam and Mark, Ben and Ciran, Dan and Jeff, Ed and Chris, Chloe and London, London and Chris.
There were many different partnerships.
Maddness
The Office has also become a central for different characters and events.
See Also
Ad blocker interference detected!
Wikia is a free-to-use site that makes money from advertising. We have a modified experience for viewers using ad blockers

Wikia is not accessible if you've made further modifications. Remove the custom ad blocker rule(s) and the page will load as expected.