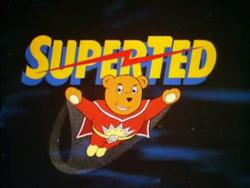 SuperTed was a famous character in a television show created by Mike Young and Robin Lyons. It was shown on CBBC.
It followed the adventures of an ordinary Teddy Bear who was defective in a toy factory and "thrown away like a piece of rubbish" in a cold dark storeroom. He was found by Spotty, a spottyman from the Planet Spot who brought him to life with his cosmic dust.
The complete series is available on DVD as of 16 June 2008.
Ad blocker interference detected!
Wikia is a free-to-use site that makes money from advertising. We have a modified experience for viewers using ad blockers

Wikia is not accessible if you've made further modifications. Remove the custom ad blocker rule(s) and the page will load as expected.