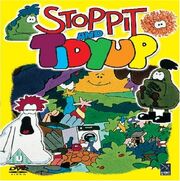 Stoppit and Tidyup is a British children's animated cartoon series that was created in 1987 and originally broadcast on CBBC in 1988. The series was created by Charles Mills and Terry Brain, the duo behind CMTB Animation, creators of The Trap Door. The series was partly funded by The Tidy Britain Group, a Wigan-based organisation whose aim was to reduce the amount of unsolicited rubbish in and around the United Kingdom.
Description
The short-running series is about cartoon characters who live in the land of Do As You're Told, which is a strange and colourful place whose inhabitants are named after orders directed at children by their parents. The episodes in which these characters appear are named after their character; only one series of thirteen episodes was produced. Stoppit, Tidyup and their friends were animated using cutout figures, unlike The Trap Door which was stop-motion. The third hand in CMTB Animation was animator Steve Box, who has since had independent success via Aardman Animations, animating Wallace & Gromit's penguin nemesis Feathers McGraw in The Wrong Trousers and directing the BAFTA-winning short film Stage Fright. Both he and Terry Brain were also key animators for Aardman's first feature film, Chicken Run.
The series follows the exploits of the frequently immature Stoppit and the hard-done-by Tidyup in their native land, which is filled with giant gherkins. None of the characters actually speak decipherable words as such. Instead they gabble, grunt, squeak, and hum whilst series narrator Terry Wogan unravels the tale for viewers. (There is one character who does not have an episode named after him — Not Now, who is I Said No's pet).
Links
Ad blocker interference detected!
Wikia is a free-to-use site that makes money from advertising. We have a modified experience for viewers using ad blockers

Wikia is not accessible if you've made further modifications. Remove the custom ad blocker rule(s) and the page will load as expected.