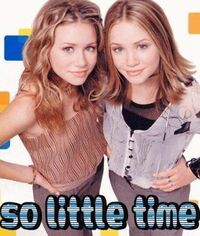 So Little Time is an American sitcom starring Mary-Kate and Ashley Olsen that aired on Fox Family. The first half of the series aired from June 2, 2001 to August 15, 2001.
The series then went on a four-month hiatus, due to network management changes. By December 2001, Fox Family had become ABC Family, and the remaining episodes aired until May 4, 2002. The series was broadcast on CBBC in the United Kingdom.
Plot
Riley Carlson is laid-back and likes to enjoy life the way it is Chloe is a perfectionist, and wants to over-achieve in everything. The lived mostly with their mom, who lived in a big beachfront home in Malibu.
Sometimes they stayed with their dad, who lived next door in a trailer. Riley and Chloe often found themselves in sticky situations, which
Ad blocker interference detected!
Wikia is a free-to-use site that makes money from advertising. We have a modified experience for viewers using ad blockers

Wikia is not accessible if you've made further modifications. Remove the custom ad blocker rule(s) and the page will load as expected.