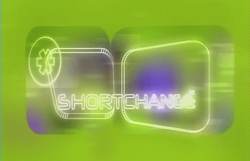 Short Change (Also written as ShortChange) was a consumer affairs programme for children, broadcast on BBC One (as part of CBBC and later also the CBBC Channel.
It was essentially a version of the prime-time show Watchdog except that it was aimed at children. The show was first aired on 20 February 1994. It had 13 series; the last episode broadcast on 9 July 2005.
The series did a lot of customer tests where they buy multiple version of a products eg a CD player, and allow a group of children to test each model and evaluate which was best.
Presenters
Zoë Ball (1994–1995)
Andi Peters (1996)
Tim Vincent (1997–1999)
Ortis Deley (1999–2005)
Rhodri Owen (2000–2005)
Angellica Bell (2001–2004)
Thalia Pellegrini (2005)
External Links
Ad blocker interference detected!
Wikia is a free-to-use site that makes money from advertising. We have a modified experience for viewers using ad blockers

Wikia is not accessible if you've made further modifications. Remove the custom ad blocker rule(s) and the page will load as expected.