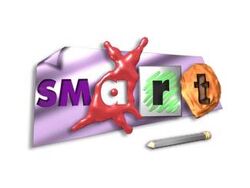 SMart was a British CBBC television programme based on the subject of art, which began in 1994 and ended in 2009. The format is similar to the Tony Hart programmes Take Hart and Hartbeat.
The show was revamped into an hour-long show in 2007; it was previously a 25 minute show. The 'older' 25 minute shows from 1994-2005 (it didn't appear in the 2006 series) also featured Morph, originally from Take Hart. It has 199 episodes.
External Links
Ad blocker interference detected!
Wikia is a free-to-use site that makes money from advertising. We have a modified experience for viewers using ad blockers

Wikia is not accessible if you've made further modifications. Remove the custom ad blocker rule(s) and the page will load as expected.