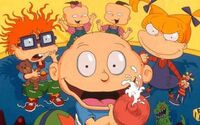 Rugrats is an animated television series created by Arlene Klasky, Gábor Csupó, and Paul Germain for Nickelodeon.
The show focuses on eight babies and their day-to-day lives, usually involving common life experiences that become adventures in the babies' imaginations. The show aired on Saturdays on CBBC, making its premiere in 1993 and airing its last episode in 2005 before temporarily moving to CITV.
links
Ad blocker interference detected!
Wikia is a free-to-use site that makes money from advertising. We have a modified experience for viewers using ad blockers

Wikia is not accessible if you've made further modifications. Remove the custom ad blocker rule(s) and the page will load as expected.