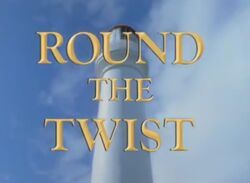 Round the Twist is an a Logie Award-winning Australian children's television series about three children and their widowed father who live in a lighthouse and become involved in many magical adventures. The show was shown on CBBC.
Plot
Four series of Round the Twist were produced, each comprising thirteen episodes. Although each episode has a self-contained plot each series has a recurring theme, usually an object or character which appears briefly in every episode. This gradually develops the theme until the final episode of the series in which it is explained and resolved.
The Twist family also have frequent conflicts with a ruthless local businessman, Harold Gribble and his family. Typically, Gribble seeks to remove the Twists from the lighthouse in order to more profitably use it as a tourist attraction for Port Niranda. This is a continuous feature of the first series, and a recurring feature of the third and fourth series.
Links