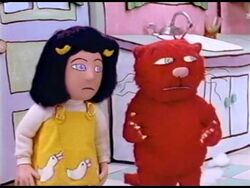 Rotten Ralph was a children's television series by Cosgrove Hall Films, Tooncan Productions and Italtoons Corporation based on the books, broadcast on CBBC from 1998 to 2001. It hasn't been aired in the UK since reruns ended in 2005.
It was based on a series of children's picture books written by Jack Gantos and illustrated by Nicole Rubel. About twenty Rotten Ralph books have been published from 1976 to 2011.
Rotten Ralph is also the first book in the series, a 32-page picture book published by Houghton Mifflin of Boston in 1976. It was the first published book for both Gantos and Rubel.
A Rotten Ralph CD Rom was released by BBC Multimedia called "Rotten Ralph - Big Night In" on 13 Oct. 2000.
Plot
The series was a stop motion series based around the main character Ralph, a mischievious cat, who lived with his owner Sarah and her parents. Ralph was always playing mean practical jokes on his family and getting into trouble hence his name "Rotten Ralph" He was always punished mostly by Dad who often seemed be on the end of Ralph's jokes.