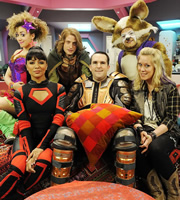 Sitcom spin-off from CBBC sketch show 'Sorry, I've Got No Head' in which viewers get to see what computer game characters do in their 'time off'
Overview
Employing CGI graphics and a sharp wit, the 26-part show follows the on-and-off-screen lives of a group of computer game characters, each from a different genre.
There's a questing elf, a zombie battling waitress, a marsupial hybrid who collects apples, a space marine, a glamorous legend hunter and an incredibly upbeat and enthusiastic dance star.
Pixelface shows the characters waiting to play their game and reacting when their console is invaded by the likes of an evil bug or a Premiership football team.
Ad blocker interference detected!
Wikia is a free-to-use site that makes money from advertising. We have a modified experience for viewers using ad blockers

Wikia is not accessible if you've made further modifications. Remove the custom ad blocker rule(s) and the page will load as expected.