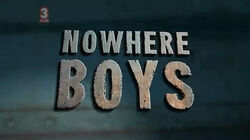 Nowhere Boys is an Australian teen-oriented television drama series created by Tony Ayres. It was first broadcast on ABC3 (which is now officially named ABCME) on 7 November 2013.
Nowhere Boys is sold internationally by NBCUniversal. On 28 April 2014, it was announced that the show had been acquired by the BBC for broadcast in the United Kingdom on their kids channel CBBC. The BBC also pre-bought series two.
Plot
Set in the fictional suburb of Bremin, the series follows four mismatched year ten students—Felix Ferne, the Goth (Dougie Baldwin), Andrew "Andy" Lau, the Nerd (Joel Lok), Sam Conte, the Golden Child (Rahart Adams) and Jake Riles, the Jock (Matt Testro)—who would never be friends.
The boys are unwillingly grouped together during a school orienteering excursion in the forest and get lost. After they spend a terrifying night in the forest, they return to Bremin and discover that they have come back to a parallel world where they were never born. Nobody, including their family and friends recognise who they are, and all public records of them have vanished.
Ad blocker interference detected!
Wikia is a free-to-use site that makes money from advertising. We have a modified experience for viewers using ad blockers

Wikia is not accessible if you've made further modifications. Remove the custom ad blocker rule(s) and the page will load as expected.