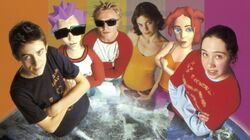 Noah and Saskia was 13-episode children's television program co-produced by the Australian Broadcasting Corporation and British Broadcasting Corporation.
The show explores a situation in which two teenagers, Noah King (Jack Blumenau) and Saskia Litras (Hannah Greenwood) meet in an Internet chatroom, using personas that are very different from their true selves. They become friends, but both fear having the other discover their true identities.
Characters
Noah King - Jack Blumenau
Saskia Litras - Hannah Greenwood
Max Hammer - Cameron Nugent
Indy - Maria Papas
Renee -Emily Wheaton
Clive - Adrian Fergus Fuller
Specs - Alex Yates
Episodes
Walsh on Wimmin
I Got Shades of Indy Blues
Eddie
Piggy in the Middle Blues
You'll Never Be a Man
Extra Spicy
Almost
Don't Give Me No Love Song Blues
Would the Real Max Hammer Please Log On?
Tonight Live With Noah and Saskia
Links
Ad blocker interference detected!
Wikia is a free-to-use site that makes money from advertising. We have a modified experience for viewers using ad blockers

Wikia is not accessible if you've made further modifications. Remove the custom ad blocker rule(s) and the page will load as expected.