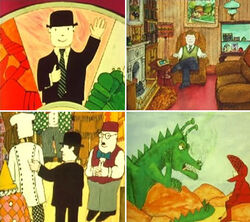 Mr Ben the television series was a BBC television series which was broadcast in the early 1970s that was based on Mr Benn books. The series only has fifteen (15) episodes which have been regally repeated on CBBC.
After over thirty years, a brand new Mr Benn episode was screened for the first time on 1 January 2005, on the UK channel Noggin. The episode was based on McKee's 2001 book Mr Benn - Gladiator.
The series was voted the sixth most popular children's television programme in the 2001 Channel 4 poll 100 Greatest Kids' TV shows.
Plot
Whether in a book, or on television, Mr Benn's adventures take on a similar pattern. Mr Benn, a man wearing a black suit and bowler hat who never seems to go to work, leaves his house at 52 Festive Road and visits a fancy-dress costume shop where he is invited by the moustachioed, fez-wearing shopkeeper to try on a particular outfit.
He leaves the shop through a magic door at the back of the changing room and enters a world appropriate to his costume, where he has an adventure (which usually contains a moral) before the shopkeeper re-appears to lead him back to the changing room, and the story comes to an end. Mr Benn returns to his normal life, but is left with a small souvenir of his magical adventure.
Ad blocker interference detected!
Wikia is a free-to-use site that makes money from advertising. We have a modified experience for viewers using ad blockers

Wikia is not accessible if you've made further modifications. Remove the custom ad blocker rule(s) and the page will load as expected.