The topic of this page has a wiki of its own: Moomin Wiki.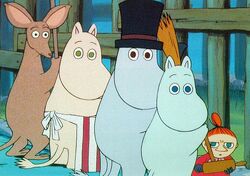 Moomin (楽しいムーミン一家 Tanoshii Mūmin Ikka?) is the third anime TV series adaptation loosely based on the books by the Finnish illustrator and writer Tove Jansson.
It was produced in 1990-91 by TV Tokyo, Telescreen Japan Inc., Finlands Broadcasting YLE and Telecable Benelux B.V.. It helped fuel the "Moomin boom" of 1990s and became the second most well known series adaptation based on the books (the other being The Moomins).
The series has been broadcast in many parts of the world including the United Kingdom, Israel, Poland, Scandinavia, Bosnia, Taiwan, Greece, South Africa and Hawaii (where it was titled The Tales of Moominvalley). The European version of the series considers the Japanese series' sequel Delightful Moomin Family: Adventure Diary (楽しいムーミン一家 冒険日記 Tanoshii Mūmin Ikka: Bōken Nikki?) the second season of the same series and numbers the corresponding episodes 79-104. The series was followed by a film: Comet in Moominland. It was shown on CBBC in the United Kingdom in the 1990's.
External Links
Ad blocker interference detected!
Wikia is a free-to-use site that makes money from advertising. We have a modified experience for viewers using ad blockers

Wikia is not accessible if you've made further modifications. Remove the custom ad blocker rule(s) and the page will load as expected.