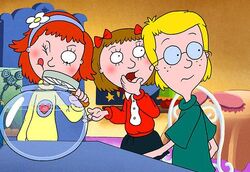 Mona the Vampire is a Canadian animated television series based on the series Robyn le Vampire, directed by Louis Piché and Jean Caillon, originally based on the short stories created and written Sonia Holleyman and later written by Hiawyn Oram.
It is mainly shown on YTV, Radio-Canada, VRAK.TV, CBBC and Cartoon Network Poland. The series follows the extraordinary adventures of 10-year-old Mona Parker (a.k.a. Mona the Vampire) and her friends as they battle a new foe of the supernatural in every episode.
Ad blocker interference detected!
Wikia is a free-to-use site that makes money from advertising. We have a modified experience for viewers using ad blockers

Wikia is not accessible if you've made further modifications. Remove the custom ad blocker rule(s) and the page will load as expected.