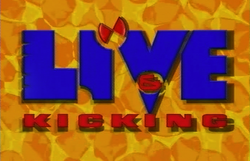 "0181 811 8181"
―The Famous telephone number
Live & Kicking was a hugely popular, hugely watched Saturday morning programme on CBBC which ran from 2nd of October 1993 - 15th of September 2001 for a total of eighth series, with 264 episodes.
The show was a replacement for Going Live!, and took many of its features from it, such as phone-ins, games, comedy, competitions and the showing of cartoons. Once Live & Kicking had become established in series two, it reached its height in popularity during series four, when it was presented by Zoë Ball and Jamie Theakston.
The show released different pieces of merchandise such as the "Live & Kicking : Show Maker".
Programmes
See Also