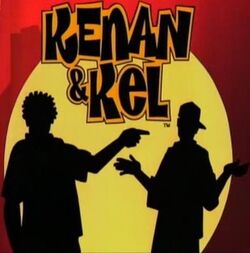 Kenan & Kel is an American sitcom that originally aired on Nickelodeon from 1996 to 2000. The show starred two friends and former All That cast members Kenan Thompson and Kel Mitchell.
Sixty-two episodes and a made-for-TV movie were produced over four seasons. The first two seasons were filmed at Nickelodeon Studios in Orlando, Florida and the following seasons were filmed at the Nick On Sunset theater in Hollywood.
The show was shown as part of Live and kicking on Saturday mornings in the 1990's as part of CBBC.
Ad blocker interference detected!
Wikia is a free-to-use site that makes money from advertising. We have a modified experience for viewers using ad blockers

Wikia is not accessible if you've made further modifications. Remove the custom ad blocker rule(s) and the page will load as expected.