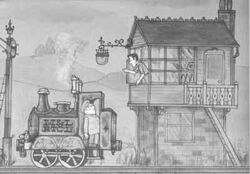 Ivor the Engine is a British children's animation by Oliver Postgate and Peter Firmin's Smallfilms company. It was shown originally on ITV and then recoloured for the BBC on CBBC.
It is a children's television series relating the adventures of a small green locomotive who lived in the "top left-hand corner of Wales" and worked for The Merioneth and Llantisilly Railway Traction Company Limited. His friends included Jones the Steam, Evans the Song and Dai Station, among many other characters.
External Links
Ad blocker interference detected!
Wikia is a free-to-use site that makes money from advertising. We have a modified experience for viewers using ad blockers

Wikia is not accessible if you've made further modifications. Remove the custom ad blocker rule(s) and the page will load as expected.