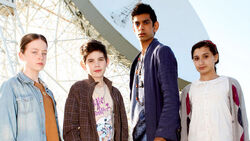 ingenious is Family film about three children who find a genie - Genius - on a farm in Alderley Edge. Genius takes them on a wild and unpredictable adventure to a world of magic, dragons and hidden treasure. In return, the kids introduce him to something he has never known: friendship.
It was shown on CBBC.
Ad blocker interference detected!
Wikia is a free-to-use site that makes money from advertising. We have a modified experience for viewers using ad blockers

Wikia is not accessible if you've made further modifications. Remove the custom ad blocker rule(s) and the page will load as expected.