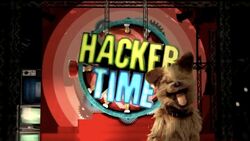 Hacker Time is a British children's sketch talk show show on CBBC starring Hacker T. Dog with one or more famous celebrities such as Anton du Beke and Dani Harmer.
The show follows the same theme of Hacker tricking the celebrity/s into his studio, interviewing them, and then watching sketches and outtakes from other programmes. Each episode is approximately 30 minutes long. The theme song and ending songs are sung by Phil Fletcher who is Hacker T. Dog's puppeteer and voice actor.
In December 2014 it was announced that there would be a fifth series of ten episodes.[5] It started on 27 July 2015 at 9:00am.
Plot
In all of the episodes there are lots of segments In series 1, one of the recurring extras are a spoof of Downton Abbey called Downstairs Abbey starring Hacker T. Dog and Dodge T. Dog as maids and Ed Petrie as their master.
It stars two maids (Hacker the Dog and Dodge the Dog) who are in love with Lord Percy (Ed Petrie) but to their dismay he is in love with another woman Lady Sarah (Isabel Fay). Whenever Lady Sarah comes to the Abbey, Lord Percy tries to do something nice for her involving the maids and it all goes disastrously wrong. Then Lord Percy asks the maids to clear up after him.