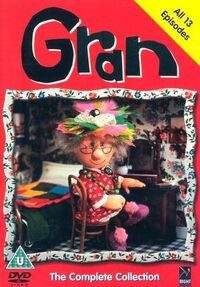 Gran was a children's stop motion animation television series narrated by Patricia Hayes and directed by Ivor Wood. There were only two main characters, namely Gran and her grandson, Jim.
The programme was made at Woodland Animations and was written by Michael and Joanne Cole. Ivor Wood created thirteen five-minute episodes in 1982. The series was broadcast on the BBC between 17 February 1983 and 12 May 1983, and was repeated in both 1986 and 1992. A children's book based on the series was also released in 1983. The shorts were also shown in the U.S. as part of the Nickelodeon series Eureeka's Castle.
Despite moderate popularity with young audiences in the mid-1980s, the series has not been seen on UK television since being repeated in 1992, and no further episodes were made. However, all 13 episodes were released on Region 2 DVD in the U.K. on 7 March 2005. This release was discontinued shortly afterwards.
Summary
At first glance you may think Gran is like any other Grandma, but she's not. Along with the grandson Jim, she is taking part in different crazy adventure. Each episode sees Gran performing weird and wacky tasks - growing her runner beans up a dinosaurs skeleton, hand glading, knitting a giant scarf to wrap around her house in the winter and cross country motorbike racing. But one thing's for sure - she'll always be wearing her pink slippers.
Episodes
Gran ran for a total of one series which consisted of thirteen episodes.
| # | Title | Summary |
| --- | --- | --- |
| 1 | Gran Gliding | Jim visits his Gran and persuades her to come with him to fly his kite. But something else called a 'hand-glider' catches Gran's eye. |
| 2 | Gran Knits | Gran may not be very good at knitting, but when she gets going there's no stopping her, and the whole house is soon protected from the winter cold. |
| 3 | Gran's Pets | Gran makes up for all the time she has lived without animals after she visits the zoo and takes a shine to the monkeys. |
| 4 | Gran the Goalie | Gran soon learns from Jim how to save goals before going to watch the local team to end up as a goalkeeper for it. |
| 5 | Gran's Old Bones | Gran and Jim dig up some strange bean poles in the garden. They visit the museum, convinced that they've found dinosaur bones. |
| 6 | Gran's Gadgets | Gran thinks how to make life around the house a bit easier. |
| 7 | Gran's Good News | Gran doesn't like watching the depressing weather forecasts on TV, so she gets her own show only giving the good news. |
| 8 | Gran's Bike | Gran likes the look of Jim's pushbike but, being Gran, she takes up cross-country motor biking instead after taking a tumble in the garden with the shopping. |
| 9 | Gran the Camper | Jim goes on a school camping trip in the hills, but when he gets to the top, he finds someone is already camping there-guess who? |
| 10 | Snow Gran | Gran finds tobogganing too tame and takes up skiing that suddenly doesn't go well by skiing in the garden to crash into the snowman. |
| 11 | Gran's Rare Bird | Gran and Jim go bird watching. Gran is so determined to spot a rare bird that Jim decides to help her out. |
| 12 | Grandmother Clock | Gran repairs a clock, and from then on everything goes like clockwork with many clocks. |
| 13 | Gran's Goat | Gran gets some goats to keep her grass down - but they get her down too. |