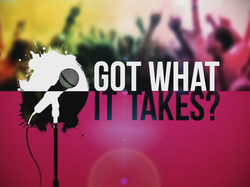 Got What It Takes? is a British children's talent show presented by Lauren Platt. It began airing on CBBC on 6 January 2016.
The first series was won by 12-year-old Amaria Braithwaite, who was given the chance to perform on the BBC Introducing Stage at BBC Radio 1's Big Weekend. 14-year-old Jorja Douglas won the second series, therefore giving her the opportunity to sing on the Main Stage on BBC Radio 1's Big Weekend, in front of an audience of 20,000 people.
Format
Eight amateur youth singers take part in the singing talent competition. Three contestants are chosen to compete in "the Sing-Off" whilst the mums vote for who they want to win. The show is based on a Romanian TV programme called Mom Made Me a Star.