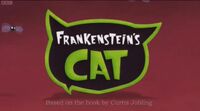 Frankenstein's Cat is animated show by MacKinnon & Saunders in the United Kingdom and Kayenta Productions in France which is based on the book series.
France 3 aired the premiere the Monday before Halloween in 2007, the BBC (CBBC) aired the show in January 2008 and ABC1 aired the show in March 2008.
Plot
Children's animation about the unique friendship between Lottie, a girl who doesn't fit in, and Nine, a cat who doesn't fit together properly
Ad blocker interference detected!
Wikia is a free-to-use site that makes money from advertising. We have a modified experience for viewers using ad blockers

Wikia is not accessible if you've made further modifications. Remove the custom ad blocker rule(s) and the page will load as expected.