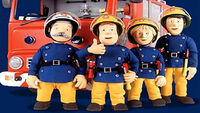 Fireman Sam is a Welsh animated children's television series about a fireman called Sam, his fellow firefighters, and other townspeople in the Welsh town of Pontypandy (a portmanteau of two real towns, Pontypridd and Tonypandy, which are situated approximately 5 miles apart in the South Wales valleys). Fireman Sam has been shown on CBBC for years.
Characters
Fireman Sam
Norman Price
Dilys Price
Penny Morris
Elvis Cridingtion
Episodes
Series 1 (1987)
Episode no.
Series no.
Title
Original air date
1
1
"The Kite"
17 November 1987
Strong winds brings down telegraph poles and catch the children's kite. Sam comes to the rescue.
2
2
"Barn Fire"
19 November 1987
Sarah and James are picking potatoes. Sam would like to help but first he has to deal with a barn fire.
3
3
"Trevor's Training"
24 November 1987
It's Trevor's first day at the first station and it's anything but routine. 'Looks like you're in for the real thing, Trev!' says Sam.
4
4
"Flat Tyre"
26 November 1987
Trevor's flat tyre causes more than just delays to Pontypandy's Bus Service…even though Sam steps in to help.
5
5
"Camping"
1 December 1987
Sam, Sarah and James go on a camping trip…but things don't go quite as they'd planned.
6
6
"Norman's Tricky Day"
3 December 1987
Norman learns that playing tricks on Pontypandy's fire department doesn't pay off.
7
7
"Lost Cat"
8 December 1987
Bella's Cat is not the only who gets stuck up a tree — Sam's Fire ladder is put to good use.
8
8
"Telly Trouble"
10 December 1987
Everyone gathers at Bella's cafe to watch Station Officer Steele on television — and he gives a fiery performance!
Series 2 (1988)
Both the English and Welsh language versions of these episodes aired in 1988 at 5:00 pm on S4C.
Episode no.
Series no.
Title
Original air date
9
1
"Treasure Hunt"
1 November 1988
Sarah and James find more than buried treasure in the village park!
10
2
"Sam's Day Off"
8 November 1988
Sam becomes an inventor in his spare time. But his Pop-Corn machine has a few teething problems…
11
3
"Thief In Pontypandy"
15 November 1988
Things go missing all over the village. Can Sam solve the mystery?
12
4
"Chemistry Set"
22 November 1988
Norman's experiments in chemistry backfire on him.
13
5
"Wishing Well"
6 December 1988
Norman's talent for mischief lands him at the bottom of an old well…and he finds more than James' soccer ball there!
14
6
"The Great Inventor"
13 December 1988
Sam hopes to win the 'Best Inventor in Wales' competition, until one of his creations runs amok!
15
7
"Safe With Sam"
29 November 1988
Sam gives all his friends in PontyPandy some timely advice on fire safety: what to do when there's a fire, how to make the home a safer place and the right way to light fireworks.
16
8
"Snow Business"
22 December 1988
All Christmas preparations stop when the crew are called out to rescue Sarah and James who are trapped on ice. Elvis is in the kitchen preparing the turkey for Christmas. Trevor's bus gets stuck in the snow and Fireman Sam comes to the rescue.