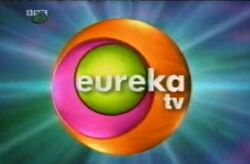 Eureka TV was a CBBC television series which demonstrated science to children. The show had different presenters through the series, who were by Kate Heavenor (all series), Fearne Cotton (series 1 & 2) and Mohini Sule (Series 3).
Features
High Tech Eureka - This keeps you up to date with all the latest technology. [1]
Micro Eureka - Can you guess the identity of an everyday object, magnified hundreds of times? The most ordinary of items take on a very different look under the microscope! [2]
Little Eureka - Find out how to perform a cool science experiment with a magical outcome at home, using everyday objects from around the house.
Wild Eureka - In Wild Eureka, check out some of the wildest designs in the animal kingdom
Big Eureka - Mysteries from the world of science unravelled with spectacular demonstrations!
Paper Eureka - Amazing things can happen with a single A4 sheet of Paper.
Links