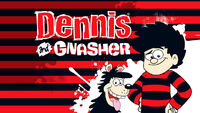 Dennis and Gnasher is a British/Australian animated television series currently being aired on CBBC. Based on the original comic strips, it features the adventures of the rebellious schoolboy Dennis the Menace and his dog Gnasher. The programme is aimed for 5 to 10 year olds and commenced on 7 September 2009 and ended on 26 February 2010 after 52 episodes
Plot
The new series features the return of Dennis, Gnasher, Mum, Dad, Curly and Pie-Face and also features the introduction of Dennis' little sister Bea, as well as several original characters like Athena. The production shots also showed Dennis' treehouse with a more menacing design. Screenshots and an episode can be found at the production company Red Kite Animation's website.
Images of the characters and production were featured in The Beano's 70 year anniversary.
External Links
Ad blocker interference detected!
Wikia is a free-to-use site that makes money from advertising. We have a modified experience for viewers using ad blockers

Wikia is not accessible if you've made further modifications. Remove the custom ad blocker rule(s) and the page will load as expected.