Dani's Castle
is a  children's comedy TV series, that has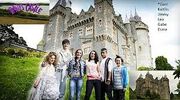 been airing on the
CBBC
Channel, since January 17, 2013, taking a short break in 2014, it is the spin-off series to
Dani's House
.
Plot
Picking up from where Dani's House ended, Dani's Castle sees Dani reassessing her life following the cancellation of fictional soap opera McHurtie's Hospital. But her life is soon turned upside down when her mysterious Great Aunt Marjorie dies and bequeaths Dani her very own castle.
With dreams of becoming the lady of the manor, Dani arrives at her new home full of ideas and optimism. But she's soon brought up short when she reaches Bogmoor Castle to find it's been voted the No 1 worst tourist attraction in the country for 10 years running. With crumbling towers, howling corridors and an overgrown jungle for a garden, Bogmoor Castle even has a resident pair of extremely difficult young ghosts - Gabriel and Esme. And what's more, Dani isn't the only heir. She soon encounters a troublesome cousin she didn't even know she had!
With no mobile phone reception to speak of and the castle threatening to become a burden around her neck, Dani has no choice but to restore it to a thriving family business. Can Dani get the better of the sceptical locals, the isolated conditions and the meddlesome ghosts to restore the castle's fortunes and find herself some sort of life into the bargain? And could she have found her romantic soulmate in the gorgeous but ghostly form of Gabriel? Dani's convinced he would make perfect boyfriend material - if only he hadn't died 250 years ago!
Series 2
Dani is now a Hollywood Actor after having an audition in Series One Episode 13, Rich has moved into the castle, Kait fancies Rich and shows signs throughout the series, Gabe is missing Dani, eventually deciding, in the Series Finale, after Dani reveals she won't be returning, to go to the afterlife, Esme gets a new friend, Dylan, after Leo got accepted into Magic School, and Dani, at the end of the Series, hands her deeds over to Kait
External Links
Ad blocker interference detected!
Wikia is a free-to-use site that makes money from advertising. We have a modified experience for viewers using ad blockers

Wikia is not accessible if you've made further modifications. Remove the custom ad blocker rule(s) and the page will load as expected.