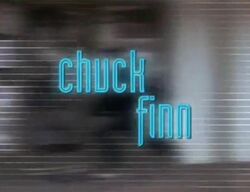 Chuck Finn was a short lived Australian, children's TV series. It originally aired on the ABC from 1999-2000. It was also broadcast on CBBC.
Plot
A contemporary children's comedy-adventure set in a small Aussie town against the background of the mighty Murray River. The series follows a group of kids who attempt to resurrect a once-derelict paddle steamer named the Tingalla Rose, not only to get it back on the river but to run it as the successful working vessel it was at the turn of the last century.
There are many hindrances to this dream, not least being that the vessel is haunted by the amiable but unpredictable ghosts of two former passengers.
Ad blocker interference detected!
Wikia is a free-to-use site that makes money from advertising. We have a modified experience for viewers using ad blockers

Wikia is not accessible if you've made further modifications. Remove the custom ad blocker rule(s) and the page will load as expected.