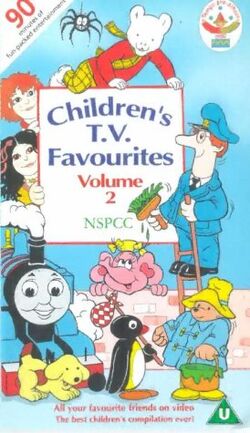 Childrens TV Favourites Volume 2, a piece of CBBC merchandise, which was a collection of popular CBBC television shows collected together for this VHS video. This video, along with Children's TV Favourites - NSPCC, was created to raise money for the NSPCC charity.
Content
There all your favorite characters in their own adventures in this fun packed video for young children. By purchasing this video you have helped futher the work of the NSPCC to help abused children.
The NSPCC and temp video would like to thank the following people and companies for proving free royalties for the films in this video.
Postman Pat - The postman Pat song.
Pingu - Pingue delivers the mail.
Thomas the Tank engine. - Thomas and Gordon.
Favorite nursery rhymes.
Huxley Pig - Huxley Pig goes flying.
Paddington Bear - Paddington cleans up.
Spot - Spot's birthday.
Spider - Spider in the bath.
Mr. Men and little miss - Little miss trouble.
Bump - Bump's upside down friend.
Anytime tales - Elmer.
Nellie the Elephant - Nellie rescues Mrs Maple's Moggy.
Anytime tales - I want a cat.
Rupert - Rupert and the Pirates.
Junglies - Albert's Tooth.
Rosie and Jim - School.
Granpa - A day at the Seaside.
Ad blocker interference detected!
Wikia is a free-to-use site that makes money from advertising. We have a modified experience for viewers using ad blockers

Wikia is not accessible if you've made further modifications. Remove the custom ad blocker rule(s) and the page will load as expected.