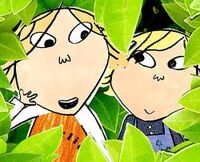 Charlie and Lola is an animated television series based on the Charlie and Lola books written by Lauren Child.
The animation uses a collage style that emulates the style of the original books. Three series were commissioned by and initially broadcast on the BBC between 2005 and 2008. The series are produced by Tiger Aspect and have been subsequently broadcast in more than twenty countries. The series has won multiple BAFTA awards.
Ad blocker interference detected!
Wikia is a free-to-use site that makes money from advertising. We have a modified experience for viewers using ad blockers

Wikia is not accessible if you've made further modifications. Remove the custom ad blocker rule(s) and the page will load as expected.