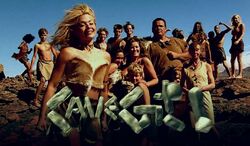 Cavegirl is a British TV series directed by Daniel Peacock. It starred Stacey Cadman, Stephen Marcus, Jennifer Guy, Harry Capehorn and Lucinda Rhodes-Flaherty. Cavegirl was shown on the CBBC timeslot on BBC.
It followed the adventures of a teenage cavegirl. Although based in the time of cave people there are many references to modern pop culture and in a similar vein to The Flintstones there are many ancient versions of modern inventions featured.
Plot
The main characters are Cavegirl herself and her family Dad, Mum, Big Sis, Gran and Little Bro. Other tribe members feature prominently. Cavegirl is a pretty, feisty individual and a bit of a tomboy although during the series she begins to become interested in boys and many of the storylines involve her becoming more mature.
Big Sis is very interested in her appearance and how boys see her. She is also rather shallow. Dad is the stereotypical rugged caveman, although he is protective of his children. Mum is a little dozey and Gran is very young at heart and more than a little crazy. Little Brother is curious about the world and often annoys Cavegirl immensely.
Gallery