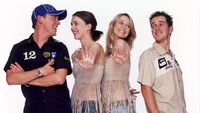 Bring It On was a BBC/CBBC television series where the presenters attempted to master new skills in a short period of time.
The shows presenters were Richard McCourt and Dominic Wood on the boys team and Fran Beauman and Ania Dykczak for the girls team.
Ad blocker interference detected!
Wikia is a free-to-use site that makes money from advertising. We have a modified experience for viewers using ad blockers

Wikia is not accessible if you've made further modifications. Remove the custom ad blocker rule(s) and the page will load as expected.