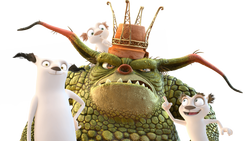 Bottersnikes and Gumbles is a British-Australian animated television series that aired on 7TWO in Australia and CBBC in the United Kingdom.
The cast includes Jason Callender, Richard Grieve, Jeff Rawle, Kathryn Drysdale and Miriam Margolyes. It was released on Netflix in North America on 19 August 2016; which was re-dubbed with American accents.
Plot
In a far away forgotten valley, heaped with long abandoned junk, a timeless battle rages between between squashy and scaly, happy and grumpy, clever and dim-witted, cute and plain old ugly! It's the land of Bottersnikes and Gumbles.
Ad blocker interference detected!
Wikia is a free-to-use site that makes money from advertising. We have a modified experience for viewers using ad blockers

Wikia is not accessible if you've made further modifications. Remove the custom ad blocker rule(s) and the page will load as expected.