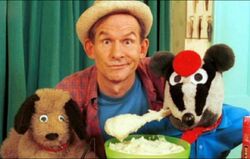 Bodger and Badger is a BBC children's comedy programme which was first broadcast in 1989. It starred Andy Cunningham as Simon Bodger, who had a badly behaved companion, a talking badger with a love for mashed potatoes.
Plot
The first series saw Bodger working at Troff's Nosherama, where his badger was unknown to the other characters. The second series was set in the Letsby Avenue Junior School; Bodger worked as the caretaker for the school and there was general antagonism between him and the schoolchildren - a large cast of children - and the headteachers Mrs Trout ('Fish-Face') and later Mrs Bogart ('Bogey').
Later series featured Bodger moving to other jobs and began to feature less of Bodger, concentrating more on Badger and his friend Mousey. She was a not overly intelligent mouse, who unsurprisingly had a fondness for cheese.
External Links