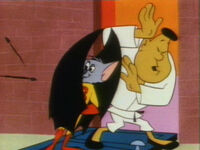 Batfink is an animated television series, consisting of five-minute shorts, that first aired in September 1967. The 100-episode series was quickly created by Hal Seeger, starting in 1966, to parody the popular Batman and The Green Hornet television series which had premiered the same year.
Batfink was re broadcast on Saturday mornings as part of Dick and Dom on CBBC.
Plot
Batfink was an invincible cartoon crime-fighter with "wings of steel ". Summoned into action on the hotline from the Chief of Police, Batfink used his Super Sonic Sonar to track down criminals. Batfink was joined by Karate, a Japanese martial arts expert.
Together they chased about in pursuit of their foes in the "Batillac," a Volkswagen- like car with wings on the rear fenders.
links