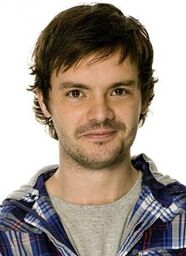 History
For CBBC, he presented Prank Patrol and was a voice-over commentator for The Smokehouse, while on BBC Two, he co-presented Basil's Swap Shop (a re-make of Multi-Coloured Swap Shop), alongside Basil Brush.[1]
Previous work for CBBC included gameshow Crush in 2004, Sport Relief Gets Sub'd!, a Sport Relief 2006 show and as co-presenter of Smile, which aired each Sunday on BBC Two until 26 August 2007 and saw him win a Children's BAFTA for best presenter.[2] He also co-hosted the Doctor Who tie-in programme Totally Doctor Who until it was scrapped after series 3 in 2007. Harwood was also the Control Voice in an episode of the Doctor Who spin off animated series The Infinite Quest. As an extra, he appeared in the Doctor Who episode "Love & Monsters", which was first transmitted on 17 June 2006.
In July 2007, Harwood fronted The Sorcerer's Apprentice, a daily reality series following a group of children learning magic at a Harry Potter-style boarding school.[3] Bear Behaving Badly, a 26-part sitcom starring Harwood and Nev the bear from Smile, was broadcast on BBC One between September and October 2007.[4] In February.
On 13 December 2010 it was revealed on the BBC's Blue Peter that Harwood would be the new presenter on the show, taking over from Joel Defriesy 2008, Harwood starred as the 'hidden' celebrity in an episode of Hider in the House.&nbsp
Ad blocker interference detected!
Wikia is a free-to-use site that makes money from advertising. We have a modified experience for viewers using ad blockers

Wikia is not accessible if you've made further modifications. Remove the custom ad blocker rule(s) and the page will load as expected.